The following article from i3 Publications
It's over a week out from the Australian federal election and a child hands out a political pamphlet, while her family picnics on a grassy knoll…
The paper reads: Vote the majors last….
How can these three little words and one little piece of paper bring down a giant self-serving government made up of two major parties with resources larger than ten gold mines?
We are not just talking multimillion dollar campaigns and a media blitz but a historical public perception of two majors parties, The Liberal Party of Australia (currently in power federally) and The Australian Labor Party, dominating the Australia's political landscape for at least over half of a century….
However the public's trust of the major parties along with the mainstream media are at an all time low. Even billions of dollars in campaigning can not buy wholehearted trust and confidence.
"Only one person did not want the pamphlet," said the mother. "That is one out of a hundred, not bad…."
Not bad when you can consider this family is a dime in a dozen amongst a growing army of thousands of women; men and children all over Australia who are religiously hitting the streets talking to people and letter box dropping how-to-vote cards promoting "freedom parties" from both right and centre-left ideologies.
They are folks of all walks of life but have one principal value in common.. Freedom; especially freedom from the tyrannical Covid-19 response endured by the Australian people.
Their relentless actions in protesting; letter-box dropping, social media posting and hitting the pavements week-after-week show they are hell-bent on taking their country back.
And these grassroots of everyday Australians are growing like wild flowers and the people they are talking to are listening in growing numbers also…
THE LAST MARCH BEFORE THE AUSTRALIAN FEDERAL ELECTION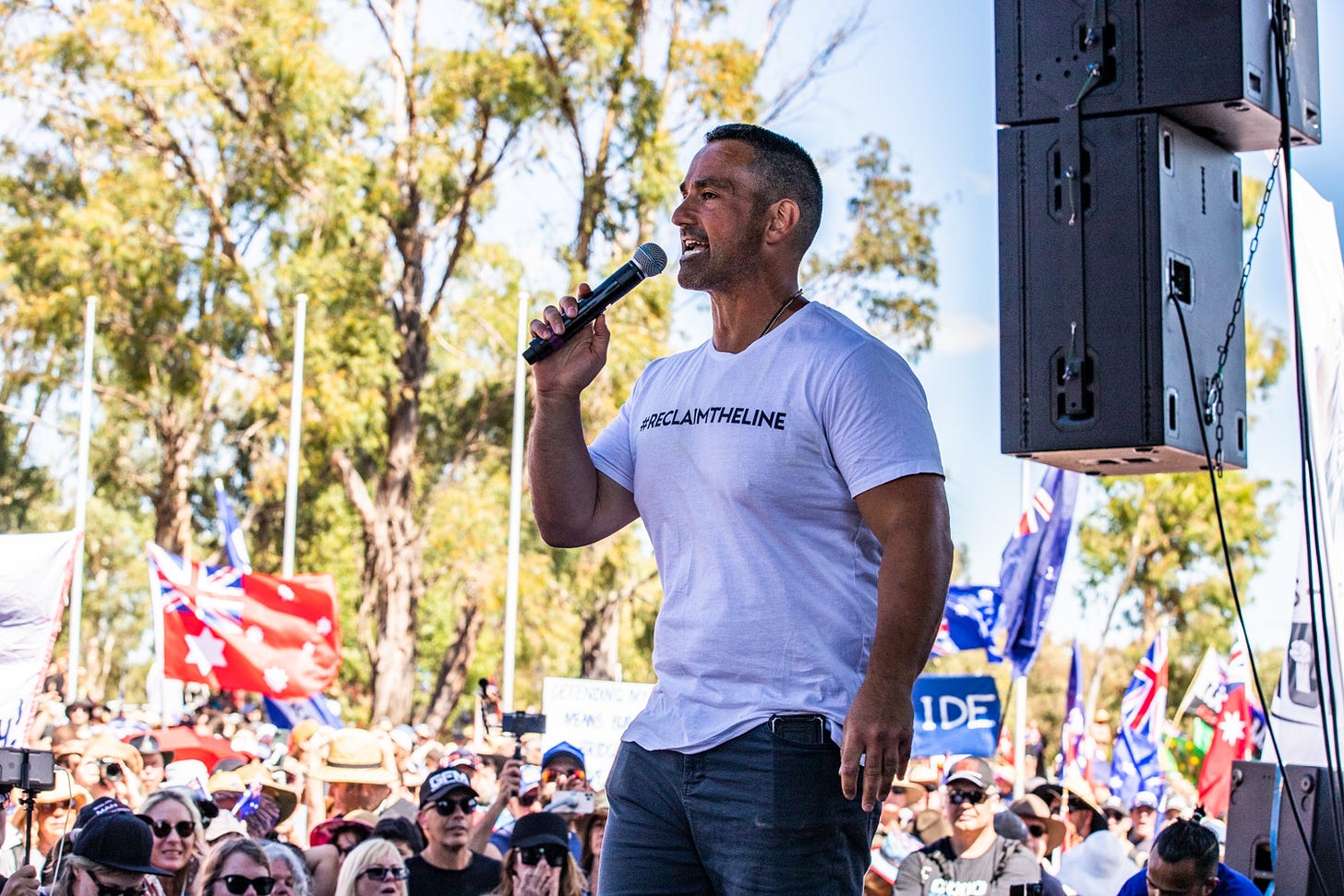 While people are sitting complying through silence in Australians draconian public and corporate health orders of vaccine mandates and gag orders, the Covid-19 response in Australia has woken a sleeping giant.
Australians on the masses have educated themselves on political matters making the everyday Australian's knowledge akin to their counterparts in Canberra.
Just a week out from a federal election in Australia, nationwide rallies on Saturday, May 14, 2022, organised by an alliance of collective grass roots groups from the freedom movement…A blanket term for a group against the government's global Covid-19 response which costed Australians their basic human rights.
The rallies across the nation come under the banner of 'Sack Them All – Vote The Majors Last.'
Independent Journalist and political commentator, Mr Joel Jammal, who has created his own how-to-vote cards for his audience, has described this election as a significant "foot in the door" for independents and freedom parties….
It is going to be an interesting federal election for the Australian people, yes indeed. 
These up-and-coming nation-wide rallies have been organised a week out from the Australian federal election.
"Rallies are happening in every capital city and also major regional cities," said Mr Christian Marchegiani from Reclaim The Line, a grassroots group for frontline workers against provisional Covid-19 vaccine mandates.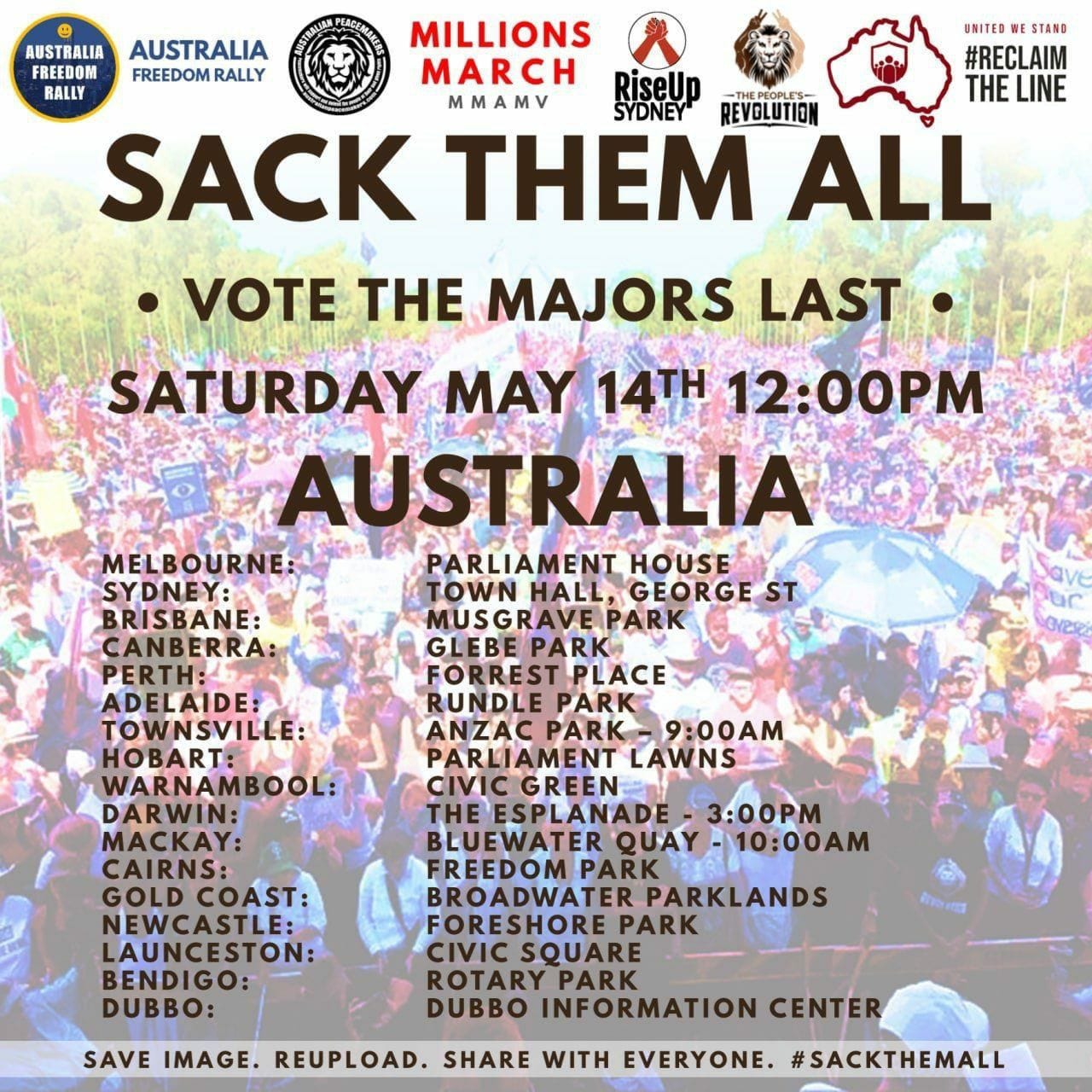 "We are making the statement to the government that the treatment of everyday Australians, during the last few years is not acceptable.
"They can't shift the blame to the state government. They were responsible, the people are not happy. And we are sending them a message that we are telling everyone to vote majors last and they will be shaking in their boots."
The protests expect to gather up to a million of Australians collectively marching across the country, as demonstrated in verified footage from the past year.
The media and government will state otherwise, under-reporting the numbers of protesting and imbalanced reports of the protesters themselves.
JUST ONE YEAR AGO PROTESTS WERE ILLEGAL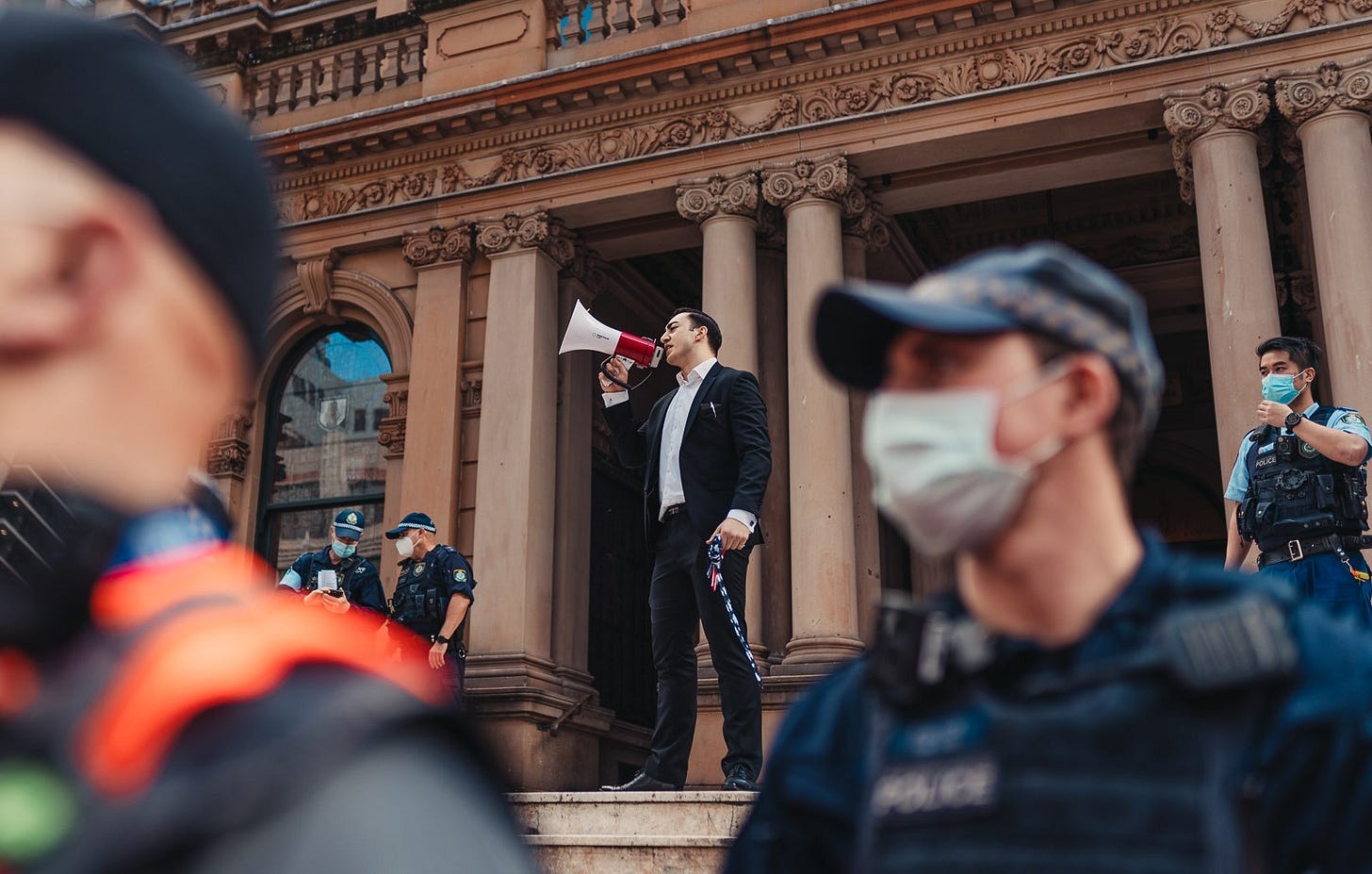 On July, 24, 2021… In a tailored suit, a young man not of 25, Mr Joel Jammal, turned up to Town Hall in Sydney, Australia. Mr Jammal was not alone. A crowd of reported fifty thousand men and women were surrounded by a couple of hundred police and the people were angry.
Protesters and police were injured. Many were arrested and fined including Mr Jammal who is an independent journalist that was covering the protest.
The protester's crime…Protesting against Australia's tyrannical Covid-19 response and loss of basic human rights.
These people were saying no to "Fortress Australia".
They did not want to be locked-out of life as they knew it and also from the rest of the world. They were greatly suffering and opposed the longest lockdowns globally, on record.
Barely a year onwards – in this same part of town – seemingly in an oblivion, workers sip on their cafe lattes; a man walks a poodle and shoppers check their phones. Some appear to social distance, a few wear masks. Life, through observation, appears back to normal..
In what can only be described as Covid Response Denial.
A far cry for many whom still have legal cases, from arrests at the Sydney protests in July, which are still in the courts.
What was presented on mainstream news, was a violent crowd of "anti-vaxxers" and "right-wing extremists", the mainstream refused to report the freedom movement side fairly…

"I just wanted to feed my family," a tradie told this journalist.
"My husband, just wanting to provide and stand-up for his wife's rights as a nurse, was almost arrested for simply standing-up for our rights…" said another wife of a protester.
"They are targeting us and making up lies," said another protester who wanted the freedom to work.
The majority of protesters gathered peacefully in protest for basic human rights such as the freedom of movement and right to earn a living. A right which is God given and one that should never have been taken in the first place.
YET STILL NOT EVEN A YEAR LATER in this cool month of May, strategically in time for the federal election, thousands of people plan to peacefully protest for the freedoms in nationwide rallies to remind people of the tyranny served upon all Australian citizens.
Despite one's stance on this issue, unquestionably freedoms have been denied.
For two years the protesters against lockdown and mandates were labelled "Covid-deniers", some wear it proudly and others found it stigmatised…But the real issue this writer is observing in Australia is a complete case of Covid Response Denial and these grassroots aim to breakthrough it with people power exposing the injustices and truths of a tyrannically-led government…
WHAT IS COVID RESPONSE DENIAL?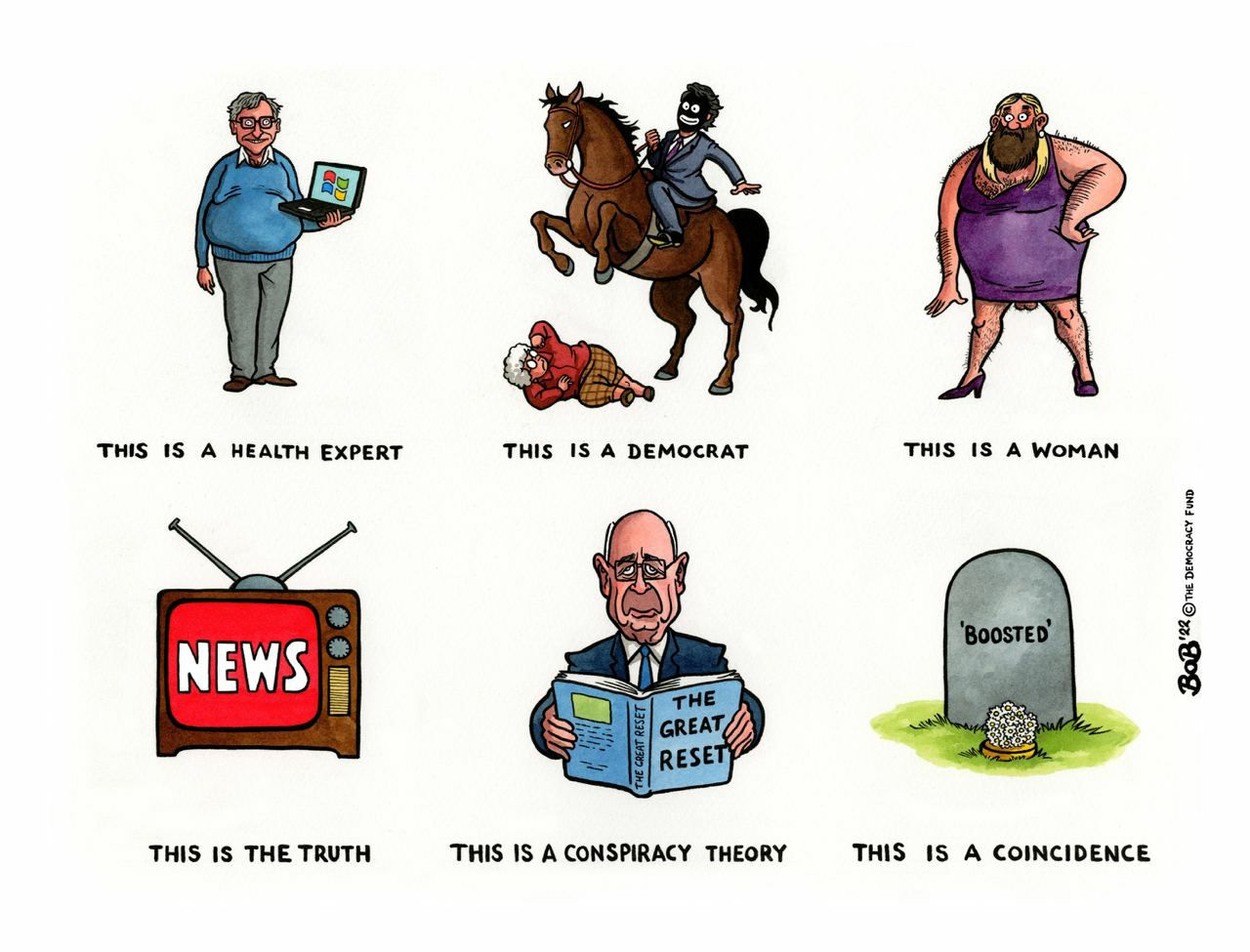 Just like a scene from a Disney movie, the princess wakes-up from a sleepy mist and her years of torture are forgotten in a kiss… Well not this time!
Amongst the political thorny hedges; a lingering question needs to be asked. What has drastically changed for Australia to lift its iron curtain, awakening from a deep Covid-19 sleep?
One must ask the question again, where cases are significantly higher than years before, how is it ok to now gather on mass, fully vaccinated or not….
These endless absurdities that everyday Australians accept is mind boggling. It is as if the government was the people's night-in-shining-armour and instead of a kiss from the prince – a provisional technology masqueraded as a safe and effective vaccine was the antidote.
The irony does not dawn on many – that despite high vaccination rates the cases of Covid-19 have exploded…With no questions asked…
To make matters worse, many Australians are not awaken to the fact that over the past two years, everyday citizens suffered police brutality akin to the democracy riots in Hong Kong…
A social media posted picture of a woman in her 70s pushed to the ground and pepper sprayed by multiple Victoria police officers at protests against lockdown and mandate protests, 2021, Victoria, Australia…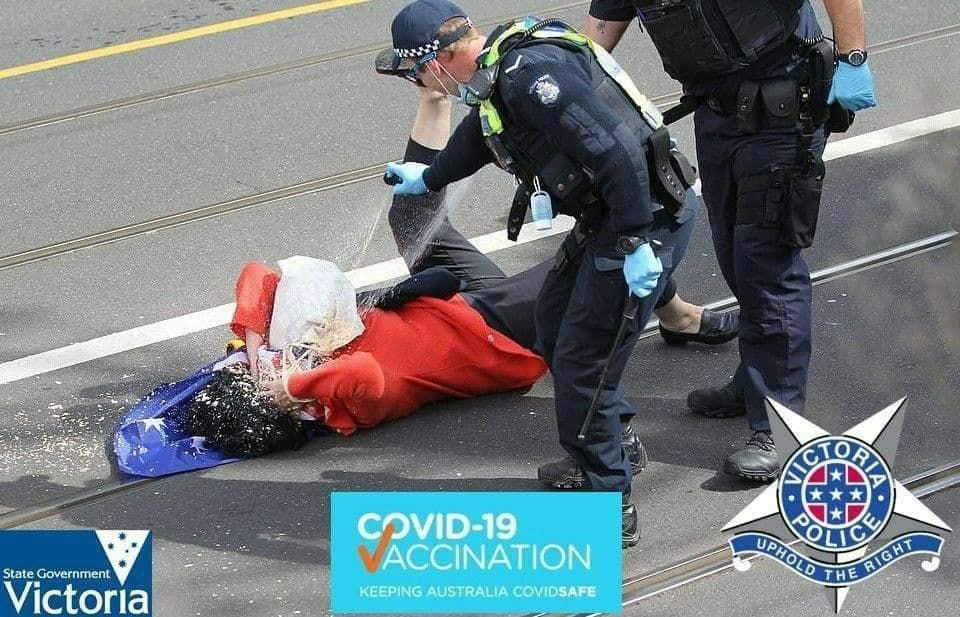 An elderly woman knocked down showered with a pepper spray; police intimating and imprisoning political dissenters for up to 29 days…Many protesters were met with armoured police officers and military-graded weaponry.
This story's purpose is not to promote hate or anger but to enact honour through remembering Australia's two year of Covid-19 response hell, especially a week before election.
But the majority of people are in a state of denial and not facing the facts – if a government has treated its people like this once before; what will stop this tyranny again…
An example of a complete case of Covid Response Denial in the media is where a news.com whose story is published for Australians reports on the CCP's harsh response to Covid-19 but does not expose the same fact this is happening in Australia….
"Young Chinese adults who spent years studying in Australia – and have returned to their native nation after their student visas expired – feel the political tension, but are seeing through their government's propaganda and are angered by the draconian measures imposed in current lockdowns.

"The Chinese Communist Party (CCP) is thrusting jail, job loss and other serious repercussions upon anyone who speaks out against it, frightening people into silence…"
People who were speaking out against Covid-Response in Australia; were treated exactly the same from the Australian government as dealt with by the CCP….
How are Australians, let alone journalists, not seeing through this illogical and hypocritical madness?
Watch this video of a father-of-four who is vocal on human rights was targeted; set-up by the mainstream media and falsely accused and imprisoned for 29 days in Victoria, Australia.
The protesters against lockdowns and mandates, known as the freedom movement, were unjustifiably vilified in the media and imprisoned simply for protesting their basic human rights.
Also for those suffering the Covid Response Denial, many are not even aware of those experiencing adverse reactions from the provisional Covid-19 vaccination. There is still an under current of fear to speak out against the government narrative of the Covid-19 response. Eerily echoing actions from the CCP.